FAQ
How can I become a member? How exactly does Toastmasters work? Here you will find the answers to frequently asked questions.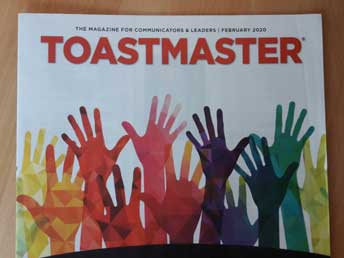 Membership
How can I become a member?
Please download the application form, fill it in and send it to the president. After we have forwarded your registration to Toastmasters International and received your bank transfer, we will send you your personal access data to www.toastmasters.org.
What does Membership cost?
It costs 60 € half-yearly, plus a one-time admission fee of 30 €.
What am I expected to do?
The club does not expect anything in particular from you. It is OK not to say anything, or you just jump in as you like. You are invited to participate and to learn in whichever way it suits you.
How much time should I expect to spend for Toastmasters?
It's up to you. It is useful to participate in two meetings a month, each meeting lasting two hours. The preparation for a speech can take a little longer, each person has their own pace. Initially preparation usually takes longer but with practice, you become quite proficient.
For those who are interested there are many other opportunities like, for example, visiting other clubs, becoming a board member, organising theme evenings etc.
How can I terminate membership?
If you do not want to continue, you simply do not transfer the next bi-annual fee due. Then you are no longer a member. A written notice is not necessary.
What can I achieve?
Say what you want to say during meetings
Being able to think about the content of what you are saying, not about feeling anxious when you speak
Spice up you conversation

Keep your English alive
Become more fluent in English
Feel more confident when speaking English

Make connections around the world
Show your global spirit when becoming a Toastmasters member
Be able to drop-in at any club in the world and connect to a global community

Learn how to facilitate a formal meeting
Make your C.V more interesting
How to use Robert's Rule of Order

Finding people you share a hobby with
Explore your own potential
Having fun
Requirements
What do I need to participate in an online Meeting?
You only need a laptop or a PC with camera and speakers. We use Zoom for our meetings. Please contact us for sending you the access link by e-mail; you don't have to buy a Zoom account.
What are the requirements to join the club?
Anyone who is at least 18 years old and has a desire to improve their speaking skills can join us. The club language is English.
Are my English skills good enough?
You have more than a basic knowledge of the language, but are not yet able to communicate exclusively in English? Perfect! This corresponds to B1 level. The B1 level could be described as an advanced beginner's level. You are not sure? Visit us and we'll find out together!
Toastmasters
What is Toastmasters?
Toastmasters International is a nonprofit educational organization that teaches public speaking and leadership skills through a worldwide network of clubs. Headquartered in Colorado, USA, the organization's membership exceeds 364.000 in more than 16.200 clubs in 145 countries. Since 1924, Toastmasters International has helped people from diverse backgrounds become more confident speakers, communicators, and leaders. https://www.toastmasters.org
Whom is Toastmasters for?
Toastmasters is for anyone who…
wants to improve speaking skills
doesn't feel comfortable speaking in public
perhaps doesn't have a particular rhetorical need but is interested in the experience of belonging to an international organisation
would like to experience fun evenings in good company
wants to improve their English skills for personal or business use
would like to improve their leadership skills, either for private or commercial reasons
wants to learn to listen
is interested in giving meaningful feedback to others and learning how to integrate constructive feedback into their own process
wants to know how to come to the point in their communication
would like to learn to 'read' their audience and deal with difficult people in an audience
has a desire to practice good time management
How do Club evenings work?
Club meetings are scheduled for two hours and have a fixed setting, including a break. The toastmaster of the evening leads through the meeting and calls the agenda. The agenda contains among other points: the word of the day, table topic speeches and prepared speeches. In the end there is an evaluation of the proceedings and speeches.
For members
What types of speeches are there at Toastmasters?
There are different types of speeches:
International speeches (=prepared speeches):
Contestants present a five- to seven- minute speech on any subject they choose.

Table topics:
An impromptu speech, all contestants are assigned the same topic, told to them when they are introduced by the contest chair.
Evaluations speeches:
Contestants observe a five-to seven-minute test speech and then present a two-to three-minute evaluation of the test speech.

Humorous speeches:
Contestants present a humorous speech that must be thematic in nature (opening, body, and close), not a monologue (series of one-liners).
How long are Toastmasters' speeches?
Prepared speeches: see speech projects. In contests: 5-7 min
Table topics: 1-2 min
Evaluation speeches: 2-3 min

For details see the following PDF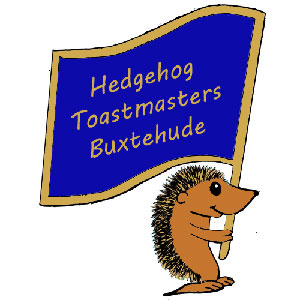 Do you have any more questions?